Getting Together with Old Friends
So Little And Too Much Time To Do It
Willie Wonka said, "So little to do and too much time to do it, no no reverse that." Where do I start? How about with 'specials'? September – October 9th special this year is ''For Every 3 You Get 1 Free!" Of course, this means when you stay with us for three days you will get a fourth day free. Six days stay then two free days, etc. Elizabeth will be planning some surprises for you guys but if I told you it wouldn't be a surprise now would it? Make sure when staying at the Eden House you book directly with us. Not only do you get the best available rate but you also get the best room available. Oh yea, did I mention that you get to talk to real people too?
Better Than The Lottery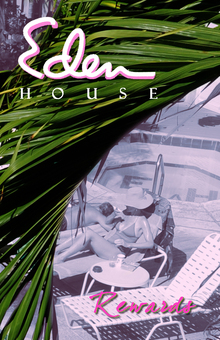 Once again Elizabeth has come up with something cool. Eden House 'reward' cards. When you stay with us or purchase anything from the gift shop you will earn points redeemable for lodging or gift shop items. The cards are $2.95 each (you can't even get a cigar for that) and are pretty to boot. We have two different styles to choose from and would make great stocking stuffers – fully loaded of course. Okay, enough of the hard sell.
Would You Buy A Used Car From These Guys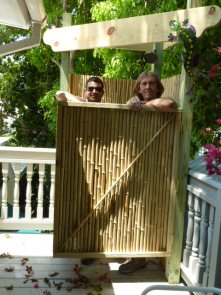 The new outdoor shower for apartment 303 is now a way of life. I hope Alex Rutledge approves since it is in his apartment. If I would have had this shower thirty years ago I would have never moved out of there. Someday I will tell you about the tree rat and tree frog that use to live with me in that apartment. Back then I called it my apartment. That is another story though. Randy and Antonio, the two characters in the shower are responsible for creation of said shower. Both have moved on to greener pastures – thanks guys.
Is She Hot Or What?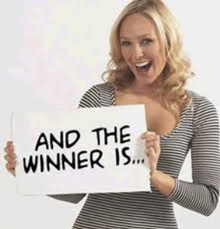 We did the drawing for 'Mike's Special' and was it won by Ericka Reyes, who lives in Puerto Rico. From one island to another. She booked her room in April and won the week at the Eden House with all the fixings. Congrats Ericka. I hope this raffle helped get the old farts familiar with booking online. That was the goal anyway.
The View Is Always The Same Unless You're In First Place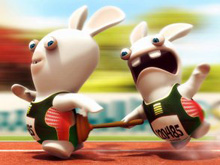 Next year the Ragnar race will be held January 6, 2012. Book early and be sure to request your 'Ragnar' discount. Yep, we will be having a Sunday brunch for you guys just like last year. Eden House will try to take it up a notch as is our style or should I say it is Elizabeth's style. Last years participants had a fantastic time running through the keys. For a first time race this was the largest race they have ever held. I would like to toot our own horn by turning you guys onto this article in the Desert News. Amy Donaldson might just get a Pulitzer for this great article.
Adult Swim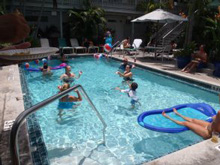 This year's 4th of July cookout was a smashing success. It should be called Elizabeth's 4th of July cookout. She started this tradition four years ago and all the recipes are hers. I was on vacation but I have heard numerous raves about the deviled eggs and many think that this year she might have out done herself. The ice-cold keg (half) also went over well. She is passing a little credit Gina's way as well as some to the guys.
I Don't Inhale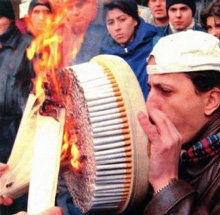 Recently we have had several complaints about smoking around the pool and on the grounds. I would like your opinion and suggestions if you have the time. I know what these folks are talking about. There is nothing worse being a non-smoker (I took my last puff in 1969) and get stuck downwind from a smoker. It drives me crazy and from the sounds of things it's driving some of you guys there too. Any thoughts or suggestions I'd love to hear from you. Drop me a line
We have turned off the smoking lamp in the pool and spa. It is hard for a non smoker to escape in such close quarters so please help and don't smoke in these two areas.
Put That Turtle Down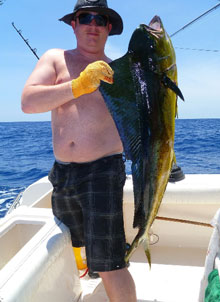 Cheech & Jeanine (Georgia), Kerry & Bob (Chicago), Cathy & David (Scotland) to name of few of the 'unholy alliance' who were down in May, stumbled onto 'Timothy Turtle'. Timothy is a plastic turtle found near a dumpster at Fausto's who has started traveling around the planet and will be getting his own website soon. Oh yea, I might add 'the alliance' took Mark & Tracey (Eden House newbies from N. Ireland) into the fold. Mark sent me this picture . Nice fish Mark and I want a pair of those shorts. Not just another fish story.
Car Pooling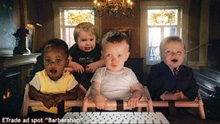 My daughter and her husband, Tyler had their first baby on Easter, Kellen James Lockwood, 8 lbs 10 oz and 21 inches long. Yes, I am a typical grandpa. It is amazing and I promise to stop sending videos and pictures to everyone. Brady is 20 months old and is an amazing young man. I can't call him a baby anymore and I will leave it at that. He is off the charts. Elizabeth and Chris couldn't be prouder. Brady is learning to sign at daycare and had swim classes this summer. He recently had visits from Grandma and uncles; Will, Ben and Rob.
See Ya On The Flip Side Bubba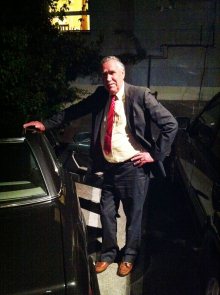 On a sad note, Fred Groven passed away on June 9th and will be greatly missed. To tweak those stale old brain cells Fred was the San Francisco cop who stayed with us for more years that he would admit. He told me he loved every minute he was with the SFPD. Fred and his lovely wife Ann always stay in room 500 in late January and early February. Fred could be found at the poolside table in that ratty old Eden House sweatshirt with the bird on it (a Lisa Grubb design). He and I would be giving each other a ration of poop with shit eating grins on our faces.
Frozen In Time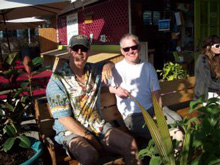 Steve sent this to RJ and RJ forwarded this on to me. Who are Steve and RJ you ask? I will get to that later as to not miss my TRAIN of thought. Steve found this from a journalist's account of an interview with Tennessee Williams:"Key West: the place where we run out of East Coast, where the cabs are pink, the sidewalks buckle, roosters roam free, people applaud the sunset, every local restaurant has the best fish sandwich in town, the t-shirts are vulgar, the cats have six toes, where in the early 90s Hooters went out of business because it was too Ohio, ceiling fans and balconies abound, the smell of beer competes with the smell of a new catch and the smell of night-blooming jasmine, and where sky and water are involved in some kind of sexy dance, blue on blue, and they let us watch." The only problem is that Tennessee Williams died 25 February 1983. If Tennessee didn't say it, he damn well should have. Back to Steve and RJ. The boys stayed at the Eden House for a couple days back in February or March and wrote a couple songs and these songs are soon to be part of a CD. Now that I think of it, they aren't boys at all but salty minstrels from yonder. RJ is residing in Berkeley, CA and Steve resides in England. When the disc gets released you can be sure it will be playing throughout the Eden House property and you will get the full scoop.
Don't Ever Dry The Cloths on High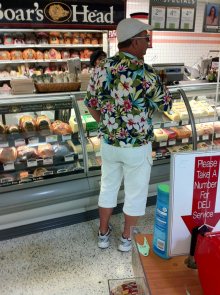 New uniforms for the staff – what do you think? The guy in this photo applied for our new position of aquatic instructor and we are thinking of hiring him. Do you think name tags would be a bit much?
I have no idea who sent this to me but I hope you enjoy it as much as I do. does this prove that with time and patience anything is possible?
Stay tuned.
It's Always Balmy In Key West
A new skin care product has been created in Key West and it is very good stuff. The men's face / aftershave product is called 'The Balm' and it surely is the balm. We have some of the products here in our gift shop and Coll, Elizabeth and I are using them. We love 'em and this has prompted me to make the following offer – Buy the product from the Eden House and if for any reason you aren't completely happy with it – return it (post marked) within a week and get a full refund. No ifs and or butts. Does it get any better than my personal guarantee? Besides, I look ten years younger and 20 points smarter. Check out this article on 'The Balm' I'm from the government and I'm here to help you, the check is in the mail and there is one more lie that slips my mind just now. I'm not fibbing about this though.
Messy but Good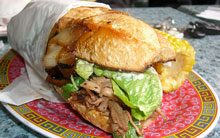 Hey guys! Ryan here with a review on a great new restaurant just around the corner. It's called Paseo and they serve Caribbean style sandwiches and entrees. They have two locations in Seattle and have brought their critically acclaimed Cuban sandwiches, well, a little closer to Cuba. I had the "Paseo Press" and it was delicious! But as Mike says, "Whatever you do, keep that puppy in the wrapper!" I didn't and most of my sandwich ended up on the plate below. They pile it on high and their marinated pork is worth the mess! The whole staff got to try them out and we all loved it.
Paseo
1000 Eaton St (at Grinnell)
Key West, Fl 33040
305-517-6740
Hours: Wednesday through Sunday 10:30-9pm
80 IS JUST A FRAME OF MIND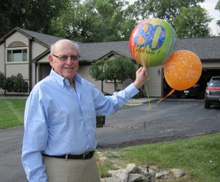 And last but not least. The 'Ira' just turned 80 and he doesn't appear to be slowing down on bit. As you can see Betsy has been peeling off the extra pounds that Ira has been carrying around for some time. Together these two are like the 'Energizer' bunny - they just keep going and going and going. Not at a snails pace I might add. Happy B-Day Bubba. The celebration took place in Detroit with Mark, Sherry, Alex and Ali (son, daughter, grandson and granddaughter).
Hugs and kisses, Mike Eden